Tennis or Diamonds?
Tennis or diamonds? Who says it is a choice? How about both. Follow  Maria Sharapova's lead.
 Former World Number One and winner of the Ladies Singles at Wimbledon in 2004, Maria Sharapova, currently ranked World number three, attended the pre-Wimbledon party sporting De Beers Diamonds in the shape of a Diamond Ring in an Adonis Rose Cluster set in white gold, with 35 Diamonds weighing 2.7 carats and valued at around $20,000. Maria was also wearing what was described as Cocktail Fizz Large Cluster Diamond Earrings featuring 28 Diamonds set in white gold weighing a total of 7.6 carats, worth considerably more; it was all pretty sunning and Maria stunningly pretty, of course!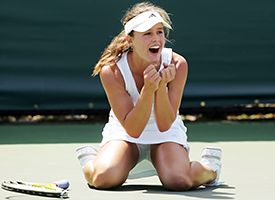 However, she failed to sparkle in the Wimbledon tournament itself and was one of the many seeded players, both women and men, to bow out on Wednesday the 26th June, when Maria to Portugal's Michelle Larcher de Brito in straight sets 6-3, 6-4.
Lacklustre, you might say, but enough of that – 'love' means 'nothing' to Tennis players, anyway!
So, what of Diamonds instead?
If now is a good time to pop the big question, it will be time to find the perfect Diamond Ring. You will want to make a qualified, informed decision and there is one website that is acclaimed for its clear informative information and total transparency. DiamondGeezer.com never skimp on quality and manufacture in house, select the design that appeals them use this powerful site to match you with your perfect diamond from over 180,000 certificated diamonds listed. DiamondGeezer.com's craftsmen combine traditional skills with cutting edge technology to bring you unique distinction at unquestionable value.
DiamondGeezer.com?
What are people saying?
1. Kurt – Excellent – 9.9 out of 10 – Sparkling service! An all-round great service – top-quality ring at a great price, engraved as I asked and delivered when Ben said it would be, including a change of address for me. I'd thoroughly recommend Diamond Geezer.
Marcus – Fantastic Service, with NO hassle or drama's. Ordering something like a wedding ring for such an important event online makes you think hard. Diamond Geezer promised delivery on a certain day, and kept that promise. I was kept informed online during the process and when the item was delivered it exceeded all my expectations. The ring was superb, presentation box was fantastic and it even came with a small bag & cleaning cloth. Great service guys, will definitely recommend!!
Jason – Best On Line Buying Experience Ever. To all involved no words can describe how well this was carried out from selection to delivery was fantastic we have bought many items online over the years and nothing comes close to this and this was just a watch. Guys whatever you are doing don't change a thing I just wish it could be rated more than 11/10.
Check out the DiamondGeezer.com website today.
Tags:
9 Out Of 10
,
Adonis
,
Carats
,
Certificated Diamonds
,
Cocktail Fizz
,
Cutting Edge Technology
,
De Beers Diamonds
,
Diamond Earrings
,
Diamond Geezer
,
Diamond Ring
,
Larcher De Brito
,
Maria Sharapova
,
Michelle Larcher De Brito
,
Quality Ring
,
Seeded Players
,
Straight Sets
,
Tennis Players
,
Unquestionable Value
,
Wedding Ring
,
White Gold
,
Wimbledon Tournament
Recent Posts

Links

Pages

Categories